1044 Franklin Avenue, Suite 204
Garden City, New York 11530 U.S.A.
phone (516) 877-7410 Fax (516) 294-4814
email: Sales@GMGSystems.com
BRANNSTROMS BILGMON488 VERIFICATION OF CALIBRATION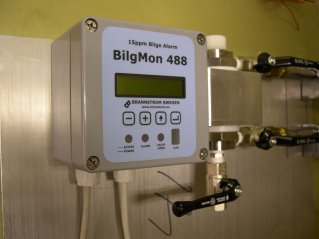 Authorized by extension of the mfr of Boss bilge water separators, GMG Systems can issue a Verification of Calibration Certificate for your BilgMon488 Bilge Alarm. Although the IOPP certificate aboard a vessel or drill rig expires five years after issuance, we recommend Verification annualy due to the consequences of accidental discharge of oil overboard. If you wish to have the whole bilge alarm evaluated for operability you may send the Master unit with Sensor, or simply send the Sensor [attached on the right side of the Master unit]. Since the Sensor stores event data such as Calibration Verification, that shall be sufficient to prove that the unit is calibrated correctly. If your Sensor is found to be out-of-calibration during Verification, you simply can buy a replacement Sensor from us which includes Certification.
Call or email for more information.