1044 Franklin Avenue, Suite 204
Garden City, New York 11530 U.S.A.
phone (516) 877-7410 Fax (516) 294-4814
email: Sales@GMGSystems.com
Click here for the 107(49) regulations
GMG Systems offers the Boss line of oily water separators and oil content monitors which are compliant with IMO regulation MEPC 107(49)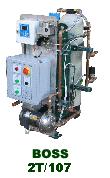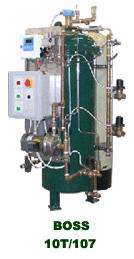 MODEL

FLOW GPM
(M3/HR)

WIDTH
INCHES

DEPTH
INCHES

HEIGHT
INCHES

SHIPPING
LBS

BOSS 2T/107

2 (.45)

27

40

50

600

BOSS 5T/107

5 (1.14)

28

49

56

900

BOSS 11T/107

10 (2.27)

36

56

69

1450

BOSS 25T/107

25 (5.68)

41

47

72

1400

25/107 Polisher

30

30

73

1600

BOSS 45T/107

45 (10.22)

54

62

75

2000

45T/107 Polisher

36

36

75

2200
BOSS OIL WATER SEPARATOR ADVANTAGES & BENEFITS
BOSS oil water separator units are shipped complete with motor, pumps, piping and controls and are ready to be easily installed and operated without delay.
Operation of this unit is a simple process. With just a little training the system can be started and runs automatically from that point on.
Simple Reliable Design & Operation
These oil water separator systems are designed to be simple. No complicated piping or schemes. Reliability comes as a result of the solid construction, the lack of moving parts and the simplicity.
The BOSS oil water separator is designed to fit on ships, platforms and other tight spaces. This unit has a small footprint making it adaptable to most situations.
Low Consumables– Low Maintenance
The standard oil water separator uses no consumables of any kind including filters. This means lower operating costs and headaches. Although the new IMO MEPC 107(49) certified unit requires a filter, the design remains simple and media replacement is made easy. The rugged construction of the oil water separator and it's lack of moving parts make maintenance minimal.
Self Monitoring / Self Priming
These marine oil water separator units are designed from the bottom up to operate automatically and monitor and adjust to your conditions. Self priming systems mean hassle free operation. There is no need for these oil water separator units to be installed on a flat, level, or even immobile surface. This makes them ideal for trucks, ships and other mobile applications.
Withstands Heavy Vibration/Motion
There is no need for these oil water separator units to be installed on a flat, level, or even immobile surface. This makes them ideal for trucks, ships and other mobile applications. Designed for ships, heavy vibrations, violent motion and up to 30 degree plum tilt cause no problems with performance or reliability on these oil water separators.
Because of the solid construction of these marine oil water separators, low maintenance requirement, and low consumables, the operating costs are incredibly low.
High Quality Industrial Components
Each component used in the marine oil water separators has been individually selected for it's industrial strength, strong vendor support, reliability and low maintenance requirements.
Our engineering department is available for consultation regarding your custom marine oil water separator requirements. Each Specific application usually has some specific needs. Let us help you determine exactly what will work for you.
BOSS MARINE OIL WATER SEPARATOR STANDARD FEATURES
All vessels in the standard oil water separator unit are constructed from extra heavy carbon steel to ASME specifications to withstand many years in harsh environments. Stainless steel options are also available.
Entire vessel assembly is blasted to a near white finish and is coated with a heavy industrial epoxy primer followed by an industrial strength urethane topcoat. Other coating options are also available.
A polypropylene or HDPE coalescing media is placed inside each separator. The media will last for a long period of time without any maintenance or cleaning. Replacing media is a simple process.
Centrifugal Pump with SS Housing
This high quality pump comes with a TEFC motor and stainless steel housing and impeller. Close coupled design of the pumps saves space and simplifies maintenance and installation of these bilge oil water separator units. Stainless steel components on the liquid end provide high quality and corrosion resistance. Top centerline discharge and foot support under casing ensures self-venting and reduces misalignment from pipe loads. High operating efficiency lowers operating costs. High quality mechanical shaft seals and o-rings bring additional reliablility.
Heavy Duty NEMA4X Control Panel
These standard cabinets are made from high impact resistant polycarbonate or fiberglass material and will withstand harsh marine environments. Protection to IP65 is maintained when fastened. Explosion proof boxes are also available for all marine oil water separator units.
High Quality Oil in Water TPH Monitor
Different TPH (oil in Water) monitors are used to meet various certifications. These TPH monitors are calibrated prior to delivery and have a alarm setpoint adjustment. The TPH Monitors are designed to account for turbidity in the water thereby reducing false positive alarms. Each monitor that comes with the BOSS marine oily water separator unit and is fully installed and programmed.
Quality Conductance Level Sensor
The standard oil water separator comes with a reliable conductivity level switch. The conductivity level switch operates on a simple conductance principle whereby a small electrical current is passed through the conductive liquid between two electrodes. Because this sensor does not detect non-aqueous liquid such as oils and other hydrocarbons, the oil-water interface is detected. Individual probes sense the high and low water levels. A module provides the control signal to the separator to start and stop the pump and open and close the associated valves.
Factory installed Bronze Piping & Valves
All piping and valves are provided in bronze and red brass to be corrosion resistant and withstand the harsh marine environment They are installed at the factory, thus the bilge oil water separators are prepared to be easily installed and operational in a very short time.
With all the flexibility that the BOSS Marine Oil Water Separation systems have built in, we can customize your system to your specific need. If you need 500 GPM we can accomplish this with either multiple units or custom designing a system to your needs. You will find easy access to our engineers, who can help you through solving any oil water separator need.
BOSS marine Oily Water Separators are certified by the US Coast Guard. These certifications include IMO MEPC 107(49). Units were tested by certification labs to operate within the limits and regulations of the IMO standards. Coast Guard certification is therefore available for your unit as an option if you need it.
IMO - International Maritime Organization
The IMO has established the standards that have to be met for certification. Our BOSS units have been tesed to these standards and the testing verified by the USCG for regulation 107(49).
ABS has given it's approval to the BOSS Separator.
Canadian Coast Guard Type Approval
A certificate of Type Approval has also been obtained from the Canadian Coast Guard.